transcosmos inc. (Representative Director, Co-presidents: Masaaki Muta, Takeshi Kamiya) hereby announces that the company has joined Metaverse Japan (Presidents: Shinko Osada, Kuniyoshi Mabuchi) to help the development of the metaverse. As a member, transcosmos will take the stage as a speaker at the Metaverse Japan Summit 2023 scheduled to be held in Shibuya Stream Hall on Thursday, July 13, 2023. Under the theme "Management Strategy powered by the Metaverse – Metaverse Business in the Real World –," transcosmos will hold a joint session with Urth inc., and the lawyer Kenshiro Michishita.
1. About Metaverse Japan
Being a hub to share the latest information and worldview widely, going beyond and across industries and companies, Metaverse Japan will underpin the discussion on a whole new concept – the metaverse. Our goal is to make Japan showcase its soft power in the global market and user communities by unlocking Japan's intellectual properties, creativity of artists, and the power of emerging entrepreneurs in the age of the metaverse through a range of activities. With the aim of contributing to a wider society as a new social enabler, we will create more opportunities for people to reach their full potential and demonstrate it in society while respecting diversity. As of June 30, 2023, we have as many as 161 member companies and organizations (51 Gold members, 63 Silver members, 43 supporting members and 4 alliance partners). Under the theme of applying the metaverse in the real world, we will deliver businesses that bring greater value to our society more than ever.
Name:
Metaverse Japan
Date of Foundation:
March 14, 2022
Location:
Share Lounge, DAIKANYAMA TSUTAYA BOOKS, 17-5, Sarugaku-cho, Shibuya-ku, Tokyo Japan
Website:
2.About Metaverse Japan Summit 2023
Under the theme of "Embrace Technology. New Work. New World," the event shows you how AI and Metaverse will change our world and the future of your work.
Name:
Metaverse Japan Summit 2023
Sponsor:
Metaverse Japan
Cosponsor:
Future Design Shibuya
Special event cosponsor:
TOKYU CORPORATION
Supporter:
Ministry of Trade, Economy and Industry, Ministry of Internal Affairs and Communications, Digital Agency
Date:
Thursday, July 13, 2023
Time:
13:00 to 19:00 (venue opens at 12:30)
Venue:
Shibuya Stream Hall (3-21-3, Shibuya, Shibuya-ku, Tokyo 150-0002)
Program:
Main stage sessions, side-stage sessions, sponsor booth
Admission Fees:
Members: Free of charge
Non-members: Offline ticket 10,000. Online ticket 3,000
URL (no translation available):
https://mvjsummit.com/mvjs202307/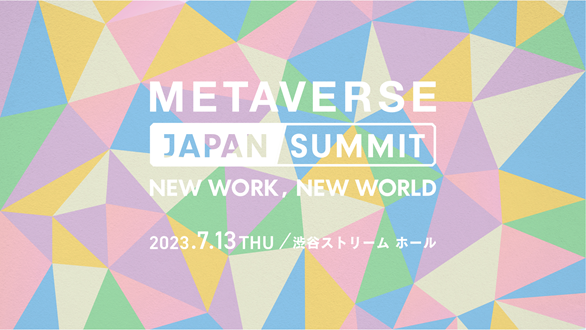 3. transcosmos joint session
Date and Time:
14:40 to 15:00, Thursday July 13, 2023
Venue:
4F STAGE (Interactive Stage) *No livestreaming available.
Theme:
Management Strategy powered by the Metaverse – Metaverse Business in the Real World –
Metaverse has the potential to spark a paradigm shift in society and industries. In this new area where various companies are driving initiatives, Japan has been pushing forward digital transformation and already applying the metaverse in the real world. For everyone who aims to be a global player from Japan with the power of the metaverse, we will talk about business management using the metaverse, and how we can apply the metaverse in business in the real world.
Speakers (in no particular order, honorific titles omitted)
Jin Mitsuda (Deputy Department Manager, Metaverse Promotion Department & Department Manager, Marketing Strategy Department, CX Business Headquarters, transcosmos inc.)
Hiroki Tanaka (Chief Executive Officer, Urth inc./Doctoral Program, Department of Architecture, Graduate School of Creative Science and Engineering, Faculty of Science and Engineering, Waseda University)
Kenshiro Michishita (Lawyer and Representative, SAKURA Law Office/advisory board member of the Public-Private Cooperation Council for Addressing New Legal Issues Concerning Contents In the Metaverse, the Secretariat of Intellectual Property Strategy Headquarters, the Cabinet Office/advisory board member of the Virtual City Consortium/advisor of the Metaverse Japan)
Related Services
* transcosmos is a trademark or registered trademark of transcosmos inc. in Japan and other countries.
* Other company names and product or service names used here are trademarks or registered trademarks of respective companies.
About transcosmos inc.
transcosmos launched its operations in 1966. Since then, we have combined superior "people" with up-to-date "technology" to enhance the competitive strength of our clients by providing them with superior and valuable services. transcosmos currently offers services that support clients' business processes focusing on both sales expansion and cost optimization through our 171 bases across 28 countries/regions with a focus on Asia, while continuously pursuing Operational Excellence. Furthermore, following the expansion of e-commerce market on the global scale, transcosmos provides a comprehensive One-Stop Global E-Commerce Services to deliver our clients' excellent products and services to consumers in 46 countries/regions around the globe. transcosmos aims to be the "Global Digital Transformation Partner" of our clients, supporting the clients' transformation by leveraging digital technology, responding to the ever-changing business environment. Visit us here https://www.trans-cosmos.co.jp/english/
Media Contact
transcosmos inc. Public Relations & Advertising Department
Email: pressroom@trans-cosmos.co.jp